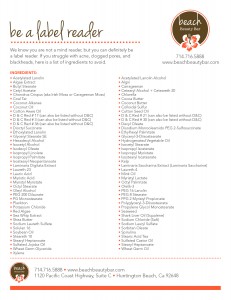 Culprit #1. Tissues
I recently learned that some well-known tissue brands are adding things to target consumers with benefits like softness and anti-viral ingredients. While this sounds wonderful, if you are acne-prone, this is a nightmare. They have embedded some very pore-clogging ingredients like sodium lauryl sulfate, isopropyl myristate and coconut oil.
Culprit #2. Hand Lotion
You may be using the most wonderful acne products for your face and even using them the right way, but if you are using a comedogenic hand lotion, guess what folks? You may be setting yourself up for breakouts whenever you lean your face in your hands, or sleep on your hands. I know I do both of those things.

Culprit #3. Lip Balms
Do you tend to get blackheads and/or breakouts around your mouth? Several well-known brands of lip balm have multiple pore-cloggers in them. Check them thoroughly before using them. Best bet? Just use good old greasy Vaseline or Aquaphor. They won't clog your pores, but will help keep your lips supple, soft and very kissable.
Culprit #4. Green Smoothies
Yes, I know… what could be more nutritious than that vitamin-loaded green smoothie? Well, if you are using spirulina, chorella or blue-green algae in it, then you are setting yourself up for acne suicide. Those "green" powders have lots of iodides in them—a disaster for acne. Also, whey and soy protein: no bueno for the acne-prone. You've been warned…
Culprit #5. Biotin Supplements
While it's touted to give you more and lustrous hair and strong fingernails, those very qualities make it a disaster for the acne-prone. You've already got too many dead skin cells piling up inside your pores. Don't add to it!
Culprit #6. Fabric Softeners
The fabric softeners that smell so lovely and put the cozy in your coziest fabrics can aggravate your acne. What makes everything soft is a waxy residue that can transfer to your skin and clog your pores. This goes for ANY fabric softener—the ones you put in your washer OR those little sheets you put in your dryer.
And don't let "organic" or "natural" labels fool you; they will all clog your precious pores.
The same goes for those wonderfully fragranced laundry detergents. Those perfumes can be trouble for your acne as they are considered irritants. Wash everything that comes in contact with your skin with fragrance-free detergent like Cheer Free, All Free & Clear, Tide Free, or Arm & Hammer Free.
As for fabric softeners, you won't be defeated by static cling! You can pick up a pair of anti-static dryer balls at your local Bed Bath and Beyond for as little as $5!
Culprit #7. Makeup
Here are just a few foundations from some of the most well-known cosmetic companies with ingredients proven to make acne worse:
Bare Minerals SPF 15 Matte Foundation
MAC Studio Fix
Laura Mercier Oil-Free Tinted Moisturizer
Rimmel Stay Matte Pressed Powder
Neutrogena Healthy Skin Liquid Makeup
Clinique Acne Solutions Liquid Makeup
Note that although some of these products claim to be "acne solutions," "natural," for "healthy skin," and say they're "oil free," this doesn't mean that they are a safe choice for acne-prone skin.
To determine whether that foundation you've had your eye on won't break you out, check the ingredients against our Pore-Clogging Ingredients List.
Acne culprits lurk everywhere. Take the guesswork out of getting your skin clear. Click here for a list of pore-clogging ingredients and book an acne consultation and clinical treatment today.